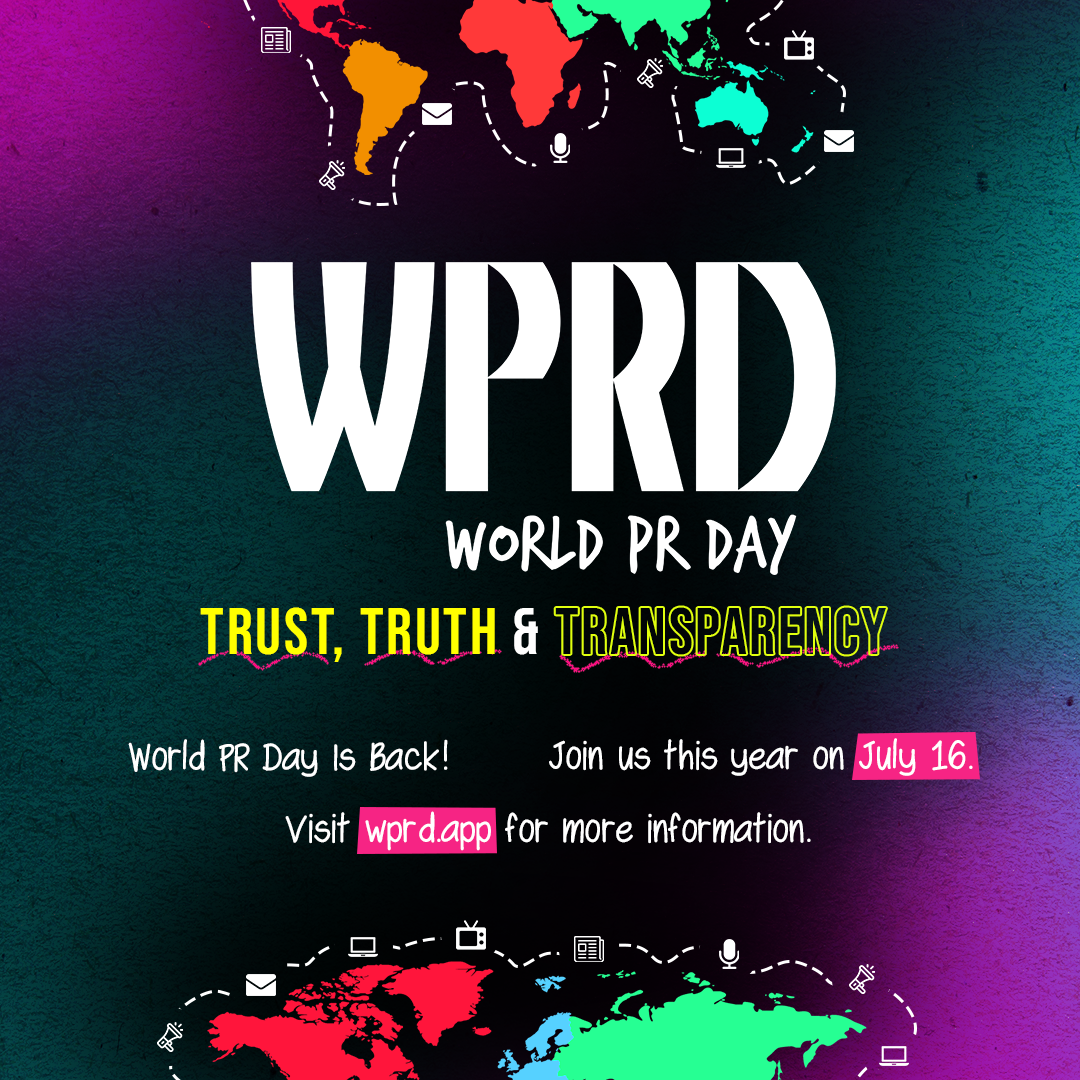 The second edition of the annual World PR Day (WPRD) – organised by PRCA member Black House Media (BHM) – will be held on 16th July and will feature a Fireside Chat with PRCA Director General Francis Ingham.
Themed "Trust, Truth and Transparency", the event presents an opportunity for professionals to put forward a unified global agenda aimed at helping stakeholders to communicate more responsibly. The event will help communications professionals understand the need for organisations to make positive contributions to the environment and society.
As part of a broader programme, the 2022 World PR Day will feature #MyPRStory – an inclusive new media activation inviting PR professionals to share one unforgettable memory from their journey in the PR industry. The stories will spotlight the many facets of PR practice and its impact on society.
The event will also feature the PR Bible – a crowdsourced repository of PR resources from PR pros across the world, as well as Fireside Chats on Twitter Spaces featuring top PR executives across the world.
BHM Founder and CEO Ayeni Adekunle said:
"We decided to begin to have tough, largely ignored conversations about PR last year, and we want to show once again how the practice has deeper connotations to how our world functions than it gets credit for.
"It is in our collective interests for the world to continue to understand the role of PR in shaping and inspiring not only businesses or governance across the globe but critical human actions that can make or mar generations to come."
Francis Ingham, PRCA Director General said:
"We're proud to take part this year's World PR Day. Our industry plays an increasingly influential role in shaping organisations and society. It's right that we stop to reflect on that responsibility and celebrate our impact on World PR Day."
About PRCA
The Public Relations and Communications Association (PRCA) is the world's largest professional PR body.
We represent more than 35,000 PR professionals in 82 countries worldwide. With offices in London, Hong Kong, Dubai, Singapore, and Buenos Aires, we are a global advocate for excellence in public relations.
Our mission is to create a more professional, ethical, and prosperous PR industry. We champion – and enforce – professional standards around the world through our Professional Charter and Code of Conduct. The Code compels members to adhere to the highest standards of ethical practice.
We deliver exceptional training, authoritative industry data, and global networking, and development opportunities.
We also manage the International Communications Consultancy Organisation (ICCO) – the umbrella body for 41 PR associations and 3,000 agencies across the world, and LG Comms – the UK's national body for local government communicators. Additionally, we support the delivery of the Motor Industry Communicators Association (MICA).