World Mental Health Day is observed on 10 October every year, with the overall objective of raising awareness of mental health issues around the world and mobilising efforts in support of mental health.
Communications is a fast-moving and high-pressure environment which makes it rewarding and exciting. However, working in such an industry can also bring challenges that affect our mental health.
The PR and communications profession has not been unique in tip-toeing around this subject in the past. Many other professions have done exactly the same. But thanks to PRCA members and those organisations supporting our work, that should no longer be the case for our industry.
Working together, we are changing attitudes. We are speaking up. We are ensuring that better support structures and mechanisms are being created. We hope that doing all of this will make PR and communications a stronger, more attractive, and more productive industry to be part of.
The inaugural PRCA APAC Mental Health Report is out 11th October, 2021!
We are proud to be dedicating a week to support World Mental Health Day. During this week, we will be sharing blogs, campaigns, case studies, research and more in the hope that it'll increase awareness and support for mental health.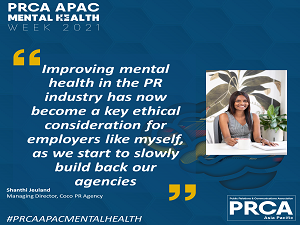 PRCA Asia Pacific
Prioritising Mental Health in the PR Industry
Shanthi Jeuland Founder & MD, COCO PR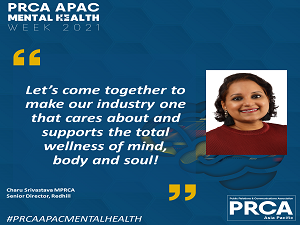 PRCA Asia Pacific
Staying Sane in a Mental World
Charu Srivastava MPRCA, Senior Director Redhill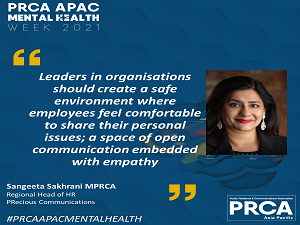 PRCA Asia Pacific
Combatting Pandemic Fatigue as a Comms Professional
Sangeeta Sakhrani MPRCA, Head of HR, PRecious Communications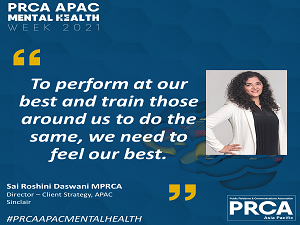 PRCA Asia Pacific
4 Questions About Mental Health Every PR Should Consider
Sai Roshini Daswani, Director – Client Strategy, APAC, Sinclair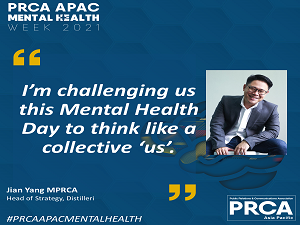 PRCA Asia Pacific
Mental Health Day is in Danger of Becoming Another Internet-Holiday
Jian Yang MPRCA. Head of Strategy, Distilleri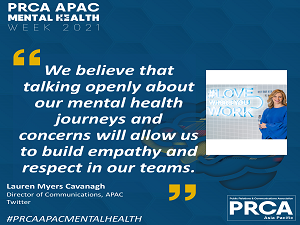 PRCA Asia Pacific
Shedding Light on the Shadow Pandemic
Lauren Myers Cavanagh, Director of Comms, APAC, Twitter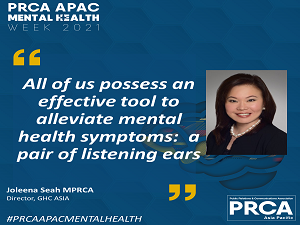 PRCA Asia Pacific
Listen With Your Heart
Joleena Seah MPRCA, Director – Southeast Asia, GHC Asia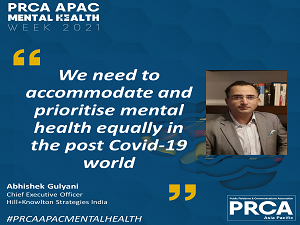 PRCA Asia Pacific
Putting People First – Mental Health at Work
Abhishek Gulyani, CEO, India, H+K Strategies
PRCA Asia Pacific
Mental Health as a Governing Objective rather than a Secondary Objective
Vu-Quan Nguyen MPRCA, Brand & Culture Director, Vero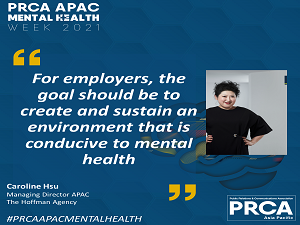 PRCA Asia Pacific
No more quick fixes: Why PR needs to see mental health as a cultural issue
Caroline Hsu MPRCA, Managing Director APAC, The Hoffman Agency
How to get involved
BLOG WRITING
Deadline 8th October

Word document

500-700 words

Image required – image of author or one related to article
How to get involved
VIDEO
Deadline 8th October

30 seconds

Individual or company video

Vertical for instagram/horizontal for Twitter