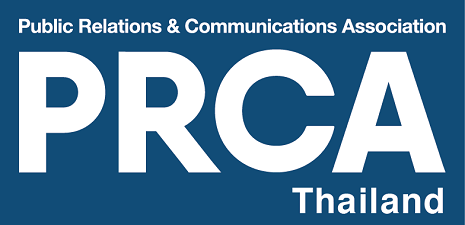 BANGKOK, October 20, 2021 – The Public Relations and Communications Association (PRCA) Asia Pacific today has announced its roadmap for a new chapter of the organization in Thailand.  The road map includes a range of objectives designed to support public relations professionals and the industry.
PRCA is the world's largest professional PR body, representing more than 35,000 PR professionals in 70 countries worldwide. Earlier this year, PRCA announced opening of  chapters in Bangkok and Ho Chi Minh City, to complement PRCA offices in London, Singapore, Dubai, Hong Kong and Buenos Aires.
PRCA membership in Thailand is open to companies, agencies, non-profit organization, government agencies, publishers, content creators and individuals and academics.
The PRCA roadmap in Thailand was designed to align with PRCA's mission to create a more professional, ethical, and prosperous PR industry.  There are three key objectives of the PRCA chapter in Thailand, along with a larger mission to ensure that the PR industry remains on its current upward trajectory among marketing services employed by companies and organizations, according to PRCA Thailand Chair Karin Lohitnavy, who is leading the chapter's inaugural year of operations.
"PR has earned a seat in the boardroom and is now more than ever a vital function for the C-suite," said Lohitnavy, the founder of Midas PR.  "Reputation management, crisis communications, employee communications and content creation are mission critical for business and organizations today.  The new PRCA chapter in Thailand is being created to support the industry and ensure professional opportunity for continuous improvement."
The first objective of the PRCA chapter in Thailand is to enhance the industry approach to PR campaign measurement.  Too often, PR campaigns are measured based on antiquated formulas, and the PRCA is seeking to move the industry towards widespread acceptance of more effective metrics. While there is no one-size-fits-all approach to measurement of PR campaigns, it is clear that the often used Advertisement Value Equivalency (AVE) approach no longer meets the needs of the industry.
The second PRCA objective is to provide opportunity for professional development through seminars and training programs, development of platforms for sharing information and research programs to enhance industry understanding.
The third of objective of PRCA in Thailand is to prepare the next generation of PR professionals to have successful and rewarding careers.
"PR is a growing industry in Thailand and can provide ample opportunities for young professionals to achieve rewarding and fulfilling careers," said Head of PRCA Asia Pacific Tara Munis.  "At the end of the day, PR people are not just communicators.  PR professionals are business advisors – and in an environment in which the sentiments of stakeholders have never been more important, the best and brightest students should consider a career in PR."
In Thailand, the founding members of PRCA include leading PR agencies such as ABM Connect, Hill+Knowlton Strategies , Midas PR, Moonshot Digital, MSL and Vero. 
During the fourth quarter of this year, PRCA's leadership in Thailand will announce plans and a schedule for ongoing activities, including but not limited to campaign awards programs, panel discussions, events for future leaders, industry research and a career day event.
In addition to Lohitnavy, the inaugural board of PRCA Thailand includes Moonshot's Jakrapong Kongmalai as Vice Chair; Vero's Pattanee Jeeriphab as Secretary; MSL's Vorasit Turongsamboon as Treasurer; Hill+Knowlton Strategies' Wachiraporn Pornpitayalert as head of international relations and Vero's Brian Griffin as head of communications.  In addition, the team leading academic liaison includes MSL's Vorasit along with Seri Sirinopwongsagon and Suvimol Decharkom of ABM connect.
About PRCA
The Public Relations and Communications Association (PRCA) is the world's largest professional PR body.
We represent more than 35,000 PR professionals in 70 countries worldwide. With offices in London, Hong Kong, Dubai, Singapore and Buenos Aires, we are a global advocate for excellence in public relations.
Our mission is to create a more professional, ethical, and prosperous PR industry. We champion – and enforce – professional standards around the world through our Professional Charter and Code of Conduct. The Code compels members to adhere to the highest standards of ethical practice.
We deliver exceptional training, authoritative industry data, and global networking and development opportunities.
We also manage the International Communications Consultancy Organisation (ICCO) – the umbrella body for 41 PR associations and 3,000 agencies across the world; and LG Comms – the UK's national body for local government communicators. Additionally, we support the delivery of the Motor Industry Communicators Association (MICA). 
This post is also available in: Thai