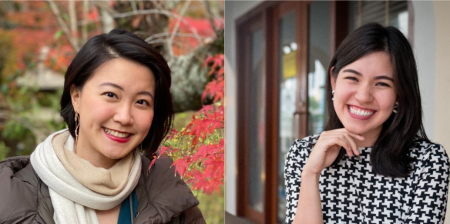 SINGAPORE, 22nd October, 2021 – Mutant Communications' Heather Seet and Victoria Brown have today won Gold at ICCO's inaugural Next Generation PR Word Cup. The UK's Elliot Payne and Sophie Webster won Silver, and France's Maria Da Silva and Vasileios Vrakas claimed Bronze.
Representing PRCA Asia Pacific as Team Singapore, Heather and Victoria competed against 10 national teams, between 13-20th October, to be crowned the world's best. In the final, pairs representing Finland, France, Hungary, India, Italy, Mexico, Nigeria, Russia, Singapore, UAE, and the UK were set a brief by the International SOS Foundation. Teams had to not only come up with a creative idea but also put together a five-minute video pitch explaining how they would implement the idea on a practical level.
The Next-Gen PR World Cup is the first competition held by ICCO to showcase emerging PR talent from around the world. To reach the final, teams first had to win at a national and regional level, by responding to a brief set by a local charity or NGO.
Winners:
Gold:
Heather Seet, Associate, Mutant Communications
Victoria Brown, Manager, Mutant Communications
Silver:
Elliot Payne, Junior Creative, Boldspace
Sophie Webster, Junior Creative, Boldspace
Bronze:
Maria Da Silva, Influencer Consultant, Agence Proches
Vasileios Vrakas, Account Manager, Omnicom PR Group
The winners will now receive the opportunity to present at the 2022 ICCO Global Summit, as well as an opportunity to lead ICCO's new Next Generation Advisory Group, which will be launched in 2022.
Kayla Perfect, Senior Group Marketing Manager, International SOS Foundation, and Chair of the Jury said: "On behalf of the International SOS Foundation, we are humbled with the efforts put forth in the competition. The calibre of the campaigns, ideas and innovation is commendable. They all address Duty of Care in their unique way and many could be implemented immediately". Commenting on the winners, Kayla added: "A very thorough campaign utilising all of the Foundation's channels. Commendable emphasis on measuring the success of the campaign"
Rob Morbin, ICCO's Deputy Chief Executive, said: "Congratulations to Heather and Victoria for an excellent pitch, beating fierce competition! The International SOS Foundation provided a tough brief but each team rose to the challenge. The ICCO Next-Gen Final was a true showcase of the global PR industry's emerging talent. I look forward to working with Kayla and Victoria on our Next Generation Advisory Group, as we look at fresh ways to support our young members and emerging leaders."
About PRCA
The Public Relations and Communications Association (PRCA) is the world's largest professional PR body.
We represent more than 35,000 PR professionals in 70 countries worldwide. With offices in London, Hong Kong, Dubai, Singapore and Buenos Aires, we are a global advocate for excellence in public relations.
Our mission is to create a more professional, ethical, and prosperous PR industry. We champion – and enforce – professional standards around the world through our Professional Charter and Code of Conduct. The Code compels members to adhere to the highest standards of ethical practice.
We deliver exceptional training, authoritative industry data, and global networking and development opportunities.
We also manage the International Communications Consultancy Organisation (ICCO) – the umbrella body for 41 PR associations and 3,000 agencies across the world; and LG Comms – the UK's national body for local government communicators. Additionally, we support the delivery of the Motor Industry Communicators Association (MICA). 
This post is also available in: Thai