Asia Pacific (APAC), 13 July 2022 – New LinkedIn data, published today in the World Economic Forum's 2022 Global Gender Gap Report, reveals that more women have been striking out on their own as entrepreneurs, possibly due to a lack of equal opportunities in the workplace. In fact, between 2016 to 2021, the growth rate of women in entrepreneurship has outweighed the growth rate of their male counterparts, especially in countries that have a lower representation of women in leadership roles.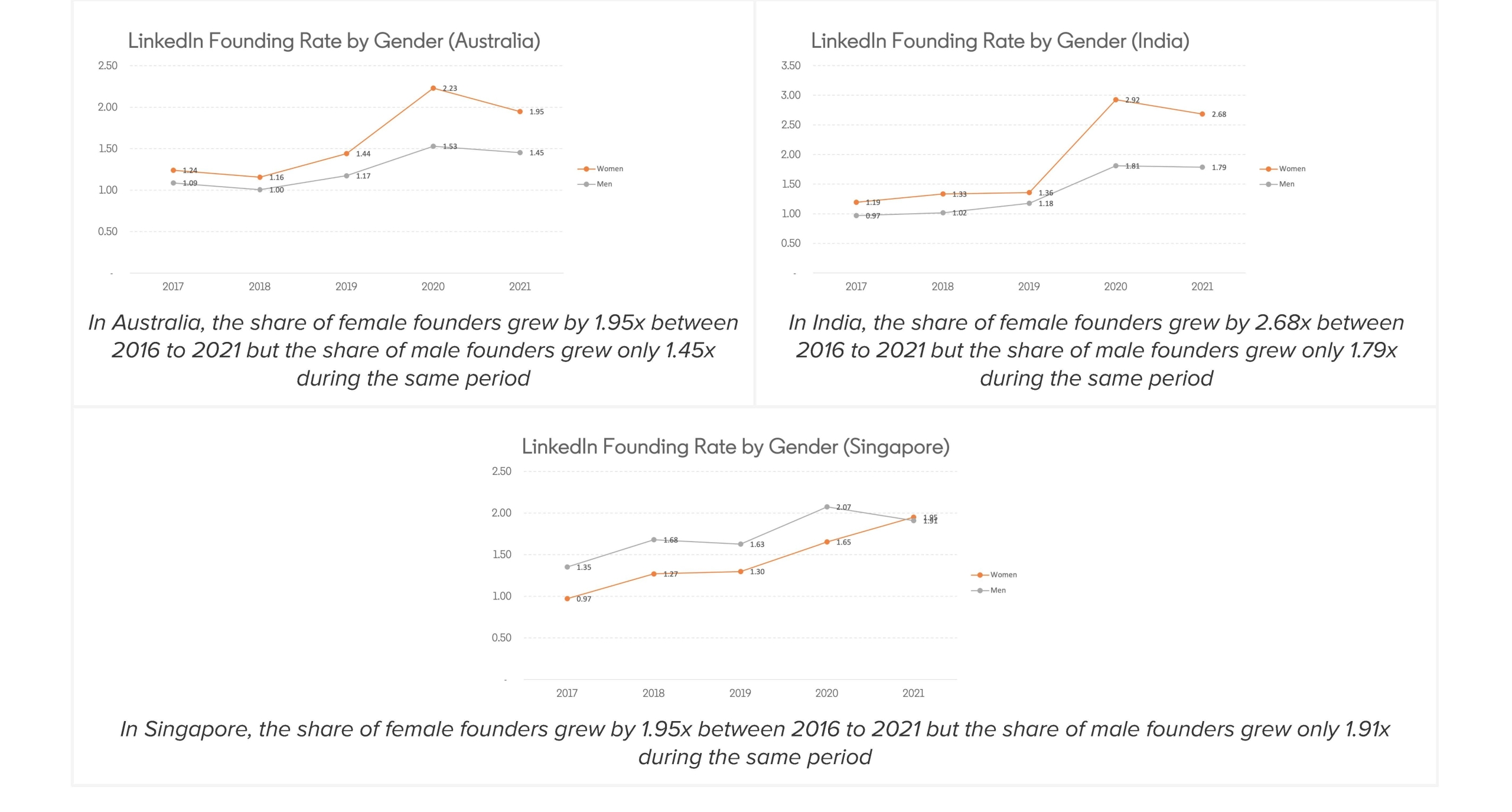 In the Asia Pacific region (APAC), Australia and India have the lowest representation of women in leadership (32% and 18% respectively) but saw the biggest boom in female entrepreneurship, especially at the height of the COVID-19 pandemic, in 2020 and 2021.
Singapore's female leadership representation is higher (39%) than the global average (31%), but the growth rate of female entrepreneurship has not been expanding as fast. In fact, it was only in 2021 that the growth of female founders in Singapore surpassed the growth of male founders for the first time.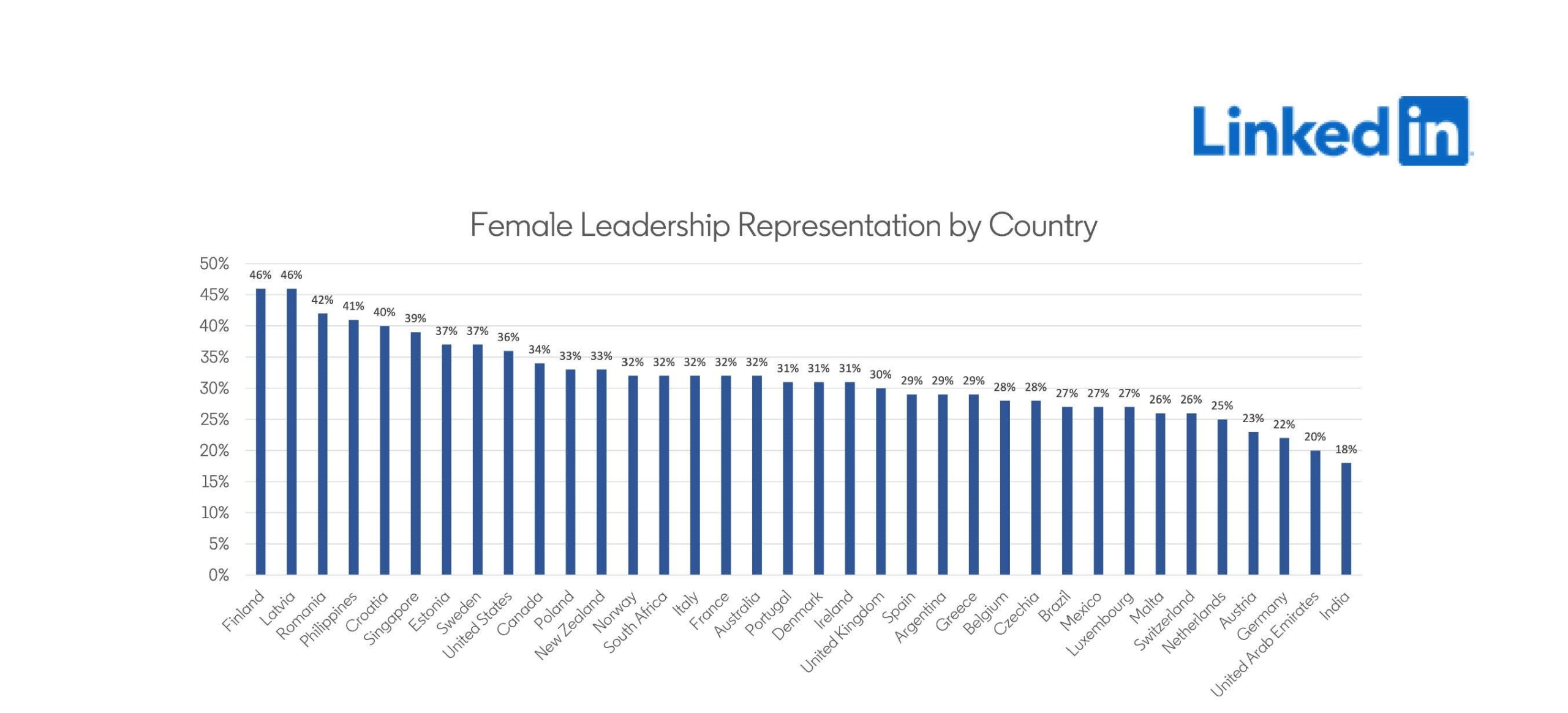 Aside from being underrepresented in leadership roles, data also finds that women aren't being promoted internally at the same rate as men
Our data also shows a bias towards men when it comes to internal promotions to leadership. The difference is most staggering in India and Singapore, where men are 42% more likely to be promoted internally into leadership positions, followed by the Philippines (26%), New Zealand (20%), and Australia (18%). This could explain why women in leadership roles also increasingly lag behind their male counterparts in the senior stages of their career, with the proportion of women in the workforce decreasing along the corporate ladder.
Feon Ang, Managing Director, APAC, LinkedIn said, "Our data is telling us a very clear story: Women face more barriers in the workplace when compared to their male counterparts – they are currently underrepresented in leadership and are not being promoted into leadership roles at the same rate as men. It's not surprising to therefore see more women creating their own opportunities through entrepreneurship. We saw this especially in the years of the pandemic (2020 and 2021), which took a harder toll on women's careers, and required them to seek out other forms of income. We also know some women were seeking out greater flexibility or reevaluating their careers based on their passions. We must take urgent steps to make workplaces work for women."
Steps in the right direction: More women are being hired into leadership today
LinkedIn's data also reveals that some progress is being made – more women are being hired into leadership roles since 2015. The largest increase was seen in the Philippines – from 34% in 2015 to 43% in 2022. This is followed by Australia and New Zealand (34% in 2015 to 40% in 2022) and India (18% in 2015 to 24% in 2022). Singapore saw the smallest increase in hiring of women into leadership roles: from 32% in 2015 to 37% in 2022.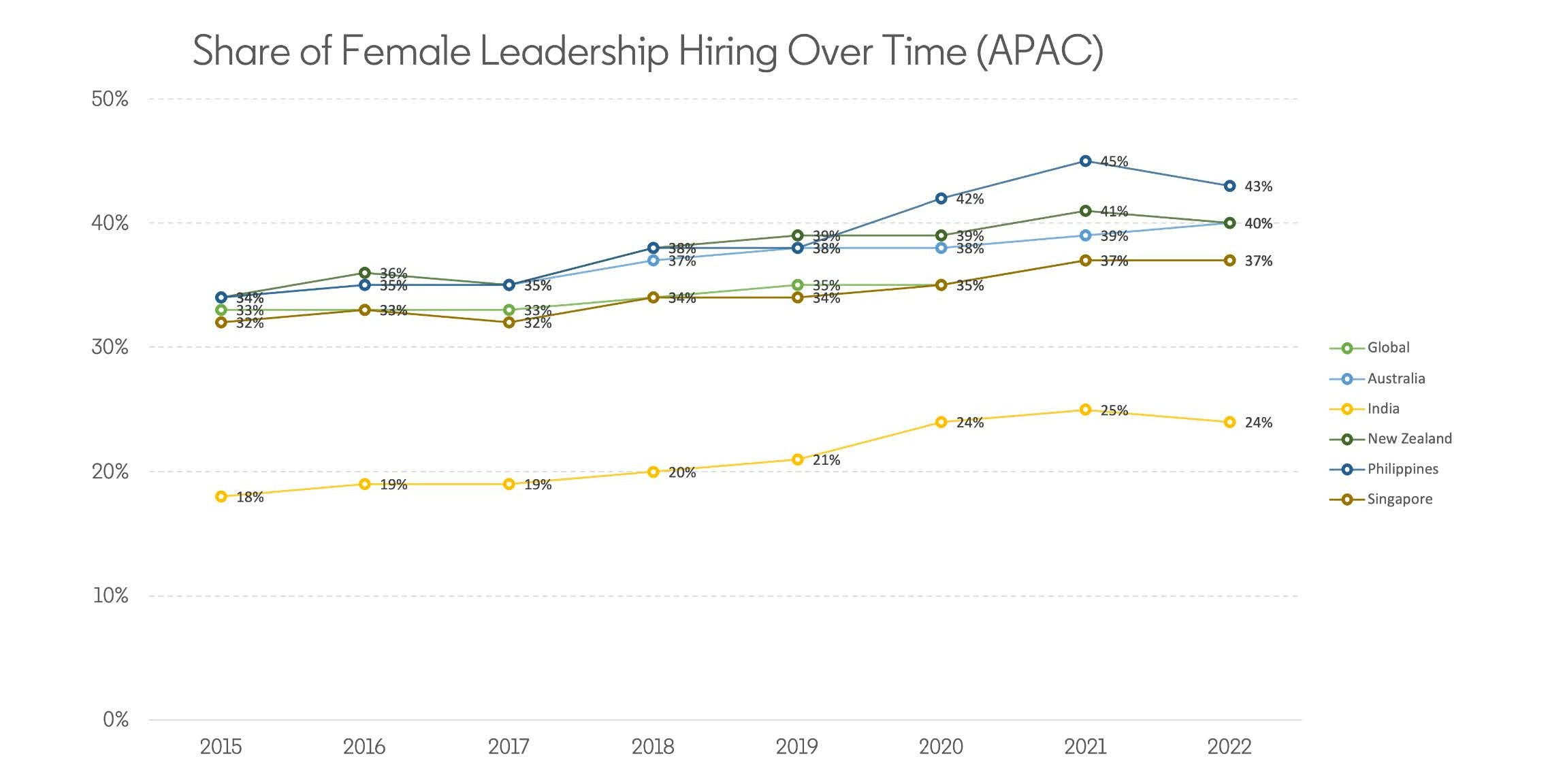 Targeted action is needed to address the global gender imbalance
"While it's great to see more women rise up as entrepreneurs, we must recognise that many of them stepped out on their own because of inequitable working environments. Aside from supporting female entrepreneurs, we need to ensure that women in the workforce have equal access to opportunities. Organisations and business leaders should look at solutions like internal mobility, fair hiring practices with a focus on skills, and flexibility. This will ensure that women are equal contributors at all levels in an organisation," says Ang.
To support female entrepreneurs, and women in the workforce, LinkedIn will unlock these courses for free until 23 August 2022:
In addition, follow these LinkedIn Top Voices in Australia, India and Singapore, who post insightful content and shaping conversations around gender equity, both in and outside of the workplace.
View more of LinkedIn's gender insights here.
###
Methodology
This analysis represents the world seen through the lens of LinkedIn data, drawn from the anonymized and aggregated profile information of LinkedIn's 830 million members around the world. As such, it is influenced by how members choose to use the platform, which can vary based on professional, social, and regional culture, as well as overall site availability and accessibility.
Gender identity isn't binary and we recognize that some LinkedIn members identify beyond the traditional gender constructs of "men" and "women." If not explicitly self-identified, we have inferred the gender of members included in this analysis either by the pronouns used on their LinkedIn profiles, or inferred on the basis of first name. Members whose gender could not be inferred as either man or women were excluded from this analysis.
The share of women in leadership represents the total number of women holding Director, VP, C-suite or Partner positions divided by the total number of men and women holding these positions. The internal promotion rate reflects the number of LinkedIn members who added a new leadership position at the same employer to their profile in 2021 divided by the total number of members holding entry, senior IC or manager-level positions during that year.
The LinkedIn Founding Rate measures the number of LinkedIn members who added a new founder position to their profile in a year, divided by the number of members in that country (and gender) during that year. We then index this to the rate in 2016 to show how this rate has changed for each gender.
About LinkedIn
LinkedIn connects the world's professionals to make them more productive and successful and transforms the way companies hire, market and sell. Our vision is to create economic opportunity for every member of the global workforce through the ongoing development of the world's first Economic Graph. LinkedIn has nearly 830 million members and has offices around the globe.
For media enquiries, please contact:
About PRCA
The Public Relations and Communications Association (PRCA) is the world's largest professional PR body.
We represent more than 35,000 PR professionals in 82 countries worldwide. With offices in London, Hong Kong, Dubai, Singapore, and Buenos Aires, we are a global advocate for excellence in public relations.
Our mission is to create a more professional, ethical, and prosperous PR industry. We champion – and enforce – professional standards around the world through our Professional Charter and Code of Conduct. The Code compels members to adhere to the highest standards of ethical practice.
We deliver exceptional training, authoritative industry data, and global networking, and development opportunities.
We also manage the International Communications Consultancy Organisation (ICCO) – the umbrella body for 41 PR associations and 3,000 agencies across the world, and LG Comms – the UK's national body for local government communicators. Additionally, we support the delivery of the Motor Industry Communicators Association (MICA).