The Hoffman Agency creates Techplomacy practice to help technology companies navigate an increasingly complex geopolitical landscape
By combining tech and public affairs expertise, the new service gives enterprises insight and support to forge strong government relationships and adapt to regulatory changes

October 11, 2022 – SINGAPORE/ HONG KONG. – The Hoffman Agency has launched a Techplomacy practice that provides tech-specific public affairs consulting for Asia-Pacific. The service will help companies stay on top of geopolitical developments and build productive relationships with government bodies in the markets they operate in.
The launch of the practice is driven by the increased complexity of both technology and international relations. It formalizes the public affairs services that have become an incrementally bigger part of The Hoffman Agency's work in recent years.
Governments recognize the potential of technology to rapidly change the landscape of a country. They are also looking to the sector as a key pillar of economic growth, and as a result are putting it under renewed scrutiny. The industry has typically shied away from political discussion. But as both Western and Asian tech companies look to grow their international presence, they must reckon with increasingly tech-focused policy development and diverse regulatory environments as well as often tense relationships between countries.
These factors range from more stringent data privacy and cybersecurity measures to trade wars and military conflict. They affect an enterprise's ability to function and growth potential, and call for communications strategies that strengthen their position based on big-picture political and cultural understanding.
Navigating all of these changes isn't easy for brands with limited communications resources and experience in public affairs and policy. The Hoffman Agency's Techplomacy offering is uniquely positioned to help by combining 35 years' worth of specialization in technology with a team of former government employees, public affairs and corporate communications experts and strategists who work with these market nuances on a daily basis.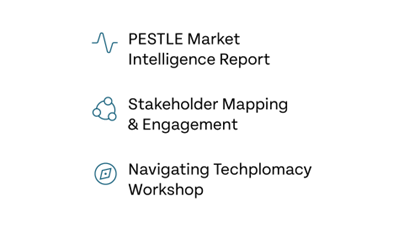 The practice delivers technology-focused stakeholder engagement, government relations, policy and regulations counsel and crisis management, supported by the agency's IMC and PR+ services for insight generation to execution. This includes political, economic, sociological, technological, legal and environmental (PESTLE) analyses and technology-oriented market intelligence. Business strategy development support through specialized workshops and advisory on integration with existing assets will also be a core part of the offering.
The team is led by Nicolas Chan, Chief Strategist for Asia-Pacific, and reports to Caroline Hsu, Chief Global Officer. The formation of the practice marks the first major initiative for Chan to lead since taking on his new role in July 2022.
"Understanding shifts in geopolitics and market attitudes has never been more important for the technology industry," said Chan. "Global tension is high and technology companies are in the eye of the storm when it comes to politics, economic headwinds and changing societal expectations. Helping our clients solve business problems and not just communications problems has become a cornerstone of our business and Techplomacy is a core part of this. We believe that combining our deep tech expertise with diplomatic thinking is going to be critical in helping our clients chart a path for success and make the right moves amid global market uncertainties."
Techplomacy is a term coined by Denmark in 2017 as a portmanteau of technological diplomacy. The creation of this diplomatic practice was in recognition of the importance of technology in foreign policy and the need to forge closer connections between governments and technology enterprises.
###
About The Hoffman Agency
 The Hoffman Agency (www.hoffman.com) is an independent, integrated communications agency that helps companies in markets of technical complexity communicate compelling messages across the world. Thanks to a unique global infrastructure and culture, The Hoffman Agency takes a collaborative approach to implementing multi-country programs. The Hoffman Agency comprises offices across the globe, including San Jose, CA; Vancouver, WA; London, UK; and in Beijing, Shanghai, Shenzhen, Hong Kong, Taipei, Seoul, Tokyo, Singapore and Jakarta.
For media enquiries, please contact: APACMarketing@hoffman.com
https://apac.prca.global/wp-content/uploads/2021/11/For-News-Page.jpg
230
465
Rebecca William
https://apac.prca.global/wp-content/uploads/2021/09/PRCA-APAC-Main-1.jpg
Rebecca William
2022-10-11 16:08:23
2022-10-11 16:08:23
The Hoffman Agency creates Techplomacy practice to help technology companies navigate an increasingly complex geopolitical landscape