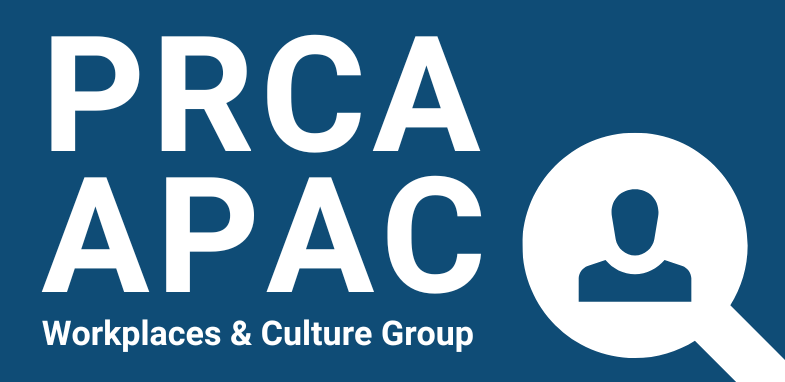 ASIA PACIFIC, 20th October 2022 – The Public Relations and Communications Association Asia Pacific (PRCA APAC) has established a new group to redefine the ways we work. The Workplaces and Culture Group has appointed Vu-Quan Nguyen-Masse MPRCA, VP, Culture & Brand, ASEAN, Vero (Chair) and Amanda Wong MPRCA, Account Director, Allison+Partners (Vice Chair) as leads.
The volunteer-led group will focus on advocating for progressive workplace-related policies, activities and programs, the Group will organize workshops, speaking opportunities as well as aim to share a diversity of voices in a PRCA APAC Workplaces report.
Committee Members include:
Vu-Quan Nguyen-Masse, VP, Culture & Brand, ASEAN, Vero

 

Amanda Wong, Account Director, Allison+PR

 

Marion

Ang, Senior Account Manager, Redhill

 

Ferdinand Bondoy, Regional Integration & Chief Executive Director, COMCO Southeast Asia

 

James Brasher, Managing Partner, RICE Communications

 

Victoria

Al-Taie, Head of Integrated Marketing Communications, QNET

 

Emma Dale, Managing Director and Co-Founder, Prospect Resourcing

 

Putrika Santiaji, Senior Associate, Maverick Indonesia

 

Jon Howard, Strategy Director, Bud Communications

 
Vero VP, Culture & Brand, ASEAN Vu-Quan Nguyen-Masse MPRCA said:
"What keeps people engaged at work? This is the question we often ask ourselves when struggling to collaborate and create value together. With the Workplaces and Culture group, we hope to foster ideas and synergies which will help our peers in the industry to find the right tune and deliver outstanding workplace cultures."
Allison+Partners Account Director Amanda Wong MPRCA said:
"We're navigating a brave new world today where a big part of the workplace experience hinges on culture. As a committee, we look forward to creating more opportunities for diverse voices to be heard as we collectively sculpt the workplace of tomorrow for PR and communications professionals across APAC."
Find out more about the group here.
ABOUT PRCA
The Public Relations and Communications Association (PRCA) is the world's largest professional PR body.
We represent more than 35,000 PR professionals in 82 countries worldwide. With offices in London, Hong Kong, Dubai, Singapore, and Buenos Aires, we are a global advocate for excellence in public relations.
Our mission is to create a more professional, ethical, and prosperous PR industry. We champion – and enforce – professional standards around the world through our Professional Charter and Code of Conduct. The Code compels members to adhere to the highest standards of ethical practice.
We deliver exceptional training, authoritative industry data, and global networking, and development opportunities.
We also manage the International Communications Consultancy Organisation (ICCO) – the umbrella body for 41 PR associations and 3,000 agencies across the world, and LG Comms – the UK's national body for local government communicators. Additionally, we support the delivery of the Motor Industry Communicators Association (MICA).