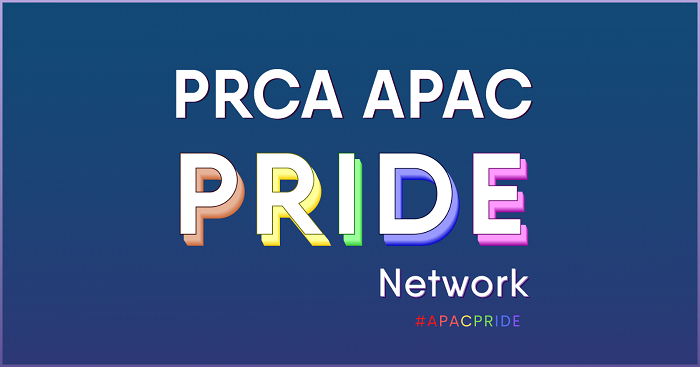 SINGAPORE, 28th February, 2022 – The Public Relations and Communications Association Asia Pacific (PRCA APAC) has today launched a new APAC business community for LGBT+ and Allies PR professionals.
The PRCA APAC Pride Network will be led by Asialife Media (Thailand) Director of Media Relations & Communications and TransTalents Founder Nikki Phinyapincha.
The Network's purpose is to empower LGBT+ and Allies in the PR community to shape a more inclusive and equitable industry. As part of the launch, the Network is looking for volunteers to join its Hero Team to help raise standards in LGBT+ communication in the industry and wider business world. Expressions of interest can be submitted here.
Over the coming months, the Network will facilitate a series of purposeful, impactful networking opportunities across APAC, including events, mentorship, workshops, awards, and Pride stories.
PRCA APAC Pride Network Chair Nikki Phinyapincha said:
"PRCA APAC Pride Network is a business community for LGBT+ & allies in PR industry to connect, collaborate and communicate the power of diversity, equality and inclusion. One of our missions is to represent the misrepresented and underrepresented LGBT+ in media and workplace. It's not a trend but a truth that we must see human as human first."
Head of PRCA APAC Tara Munis MPRCA said:
"We need a fundamental change in how we talk about the issues impacting the LGBT+ community. As professional communicators, we can be at the forefront of this change – whether it's advising clients and organisations on inclusive policies or creating effective campaigns that confronts key LGBT issues. The case for a more diverse and inclusive PR industry in APAC is overwhelming given how much our work relies on innovation, creativity and empathy. And so, I encourage all PRCA members to get involved with our new Pride Network."
For more information about the Network, please contact APACPRIDE@prca.global.
ABOUT PRCA
The Public Relations and Communications Association (PRCA) is the world's largest professional PR body.
We represent more than 35,000 PR professionals in 82 countries worldwide. With offices in London, Hong Kong, Dubai, Singapore, and Buenos Aires, we are a global advocate for excellence in public relations.
Our mission is to create a more professional, ethical, and prosperous PR industry. We champion – and enforce – professional standards around the world through our Professional Charter and Code of Conduct. The Code compels members to adhere to the highest standards of ethical practice.
We deliver exceptional training, authoritative industry data, and global networking, and development opportunities.
We also manage the International Communications Consultancy Organisation (ICCO) – the umbrella body for 41 PR associations and 3,000 agencies across the world, and LG Comms – the UK's national body for local government communicators. Additionally, we support the delivery of the Motor Industry Communicators Association (MICA).