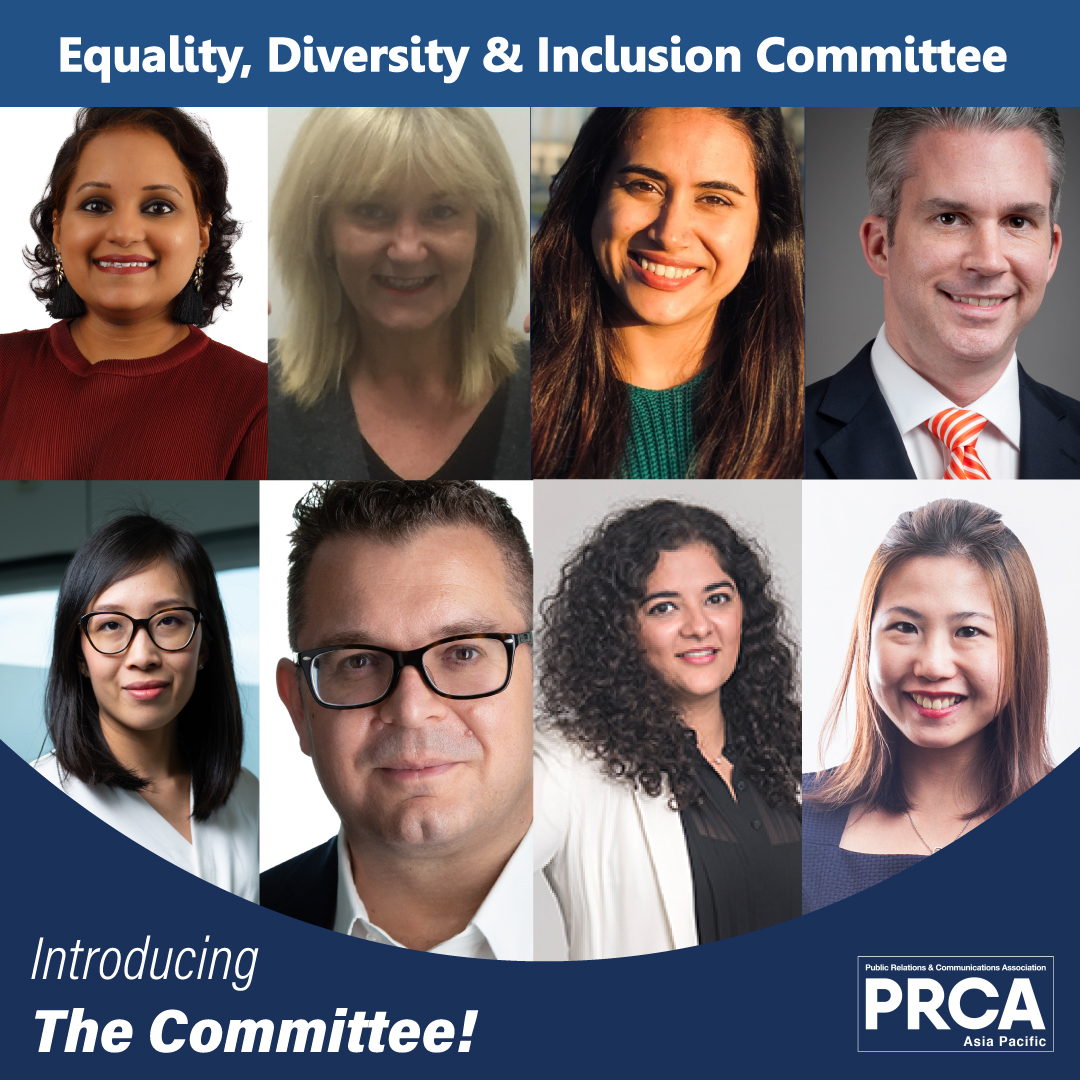 SINGAPORE, 27th October, 2021 – The Public Relations and Communications Association Asia Pacific (PRCA APAC) has today unveiled its Equality, Diversity & Inclusion Committee, which aims to foster the growth of inclusive cultures in PR across the Asia Pacific.
The PRCA APAC Equality, Diversity & Inclusion Committee will be led by Redhill Senior Director Charu Srivastava MPRCA (chair) and IPG DXTRA Senior Vice President Susie Bates MPRCA (vice-chair).
Its purpose is to increase diversity, inclusion, and equity across all levels of seniority in the Asia Pacific's communications profession.
The Committee will host events, drive industry initiatives, and facilitate consultations with organisations and individuals who wish to contribute to a more diverse and inclusive communications profession in Asia.
Founding E,D&I Committee:
Chair:
Charu Srivastava MPRCA, Senior Director, Redhill
Vice Chair:
Susie Bates MPRCA, SVP HR & Talent, Asia Pacific, IPG DXTRA
Committee Members:
Natashia Jaya MPRCA, Group Account Director, Allison+Partners
Iknoor Kaur MPRCA, Sr Manager – Corporate Brand and Communications, SPAG
Sai Roshini Daswani MPRCA, Director – Client Strategy, APAC, Sinclair
Vernia Lim MPRCA, Head of Public Relations, JLL
Lee Nugent MPRCA, Regional Director, Archetype
Tom Evrard MPRCA, Senior Managing Director, FTI Consulting
Head of PRCA APAC Tara Munis MPRCA said:
"The last 18 months has inspired renewed enthusiasm for meaningful change, so it's critical we don't lose the momentum now. As always, the challenge is to translate talk to action.
"Each PRCA APAC Equality, Diversity & Inclusion Committee member brings a unique perspective and acumen to the table. I very much look forward to their expertise and support as we drive a more diverse and inclusive PR industry in Asia."
Charu Srivastava MPRCA, Senior Director, Redhill said:
"It is an honour to chair the E, D & I Committee. Through this mandate, we are committed to creating a real impact on the industry and making it a better place for future generations. Discrimination and inequality in our industry goes beyond racial and gender biases – age, sexual orientation and even the university you studied at can be a cause for discrimination. It is imperative to bring these issues to the fore and address them through open and honest conversations, and I look forward to working with a very passionate committee to achieve our goals."
About PRCA
The Public Relations and Communications Association (PRCA) is the world's largest professional PR body.
We represent more than 35,000 PR professionals in 70 countries worldwide. With offices in London, Hong Kong, Dubai, Singapore and Buenos Aires, we are a global advocate for excellence in public relations.
Our mission is to create a more professional, ethical, and prosperous PR industry. We champion – and enforce – professional standards around the world through our Professional Charter and Code of Conduct. The Code compels members to adhere to the highest standards of ethical practice.
We deliver exceptional training, authoritative industry data, and global networking and development opportunities.
We also manage the International Communications Consultancy Organisation (ICCO) – the umbrella body for 41 PR associations and 3,000 agencies across the world; and LG Comms – the UK's national body for local government communicators. Additionally, we support the delivery of the Motor Industry Communicators Association (MICA).