Date/Time
Date(s) - 03/10/2023
4:00 pm - 5:00 pm
---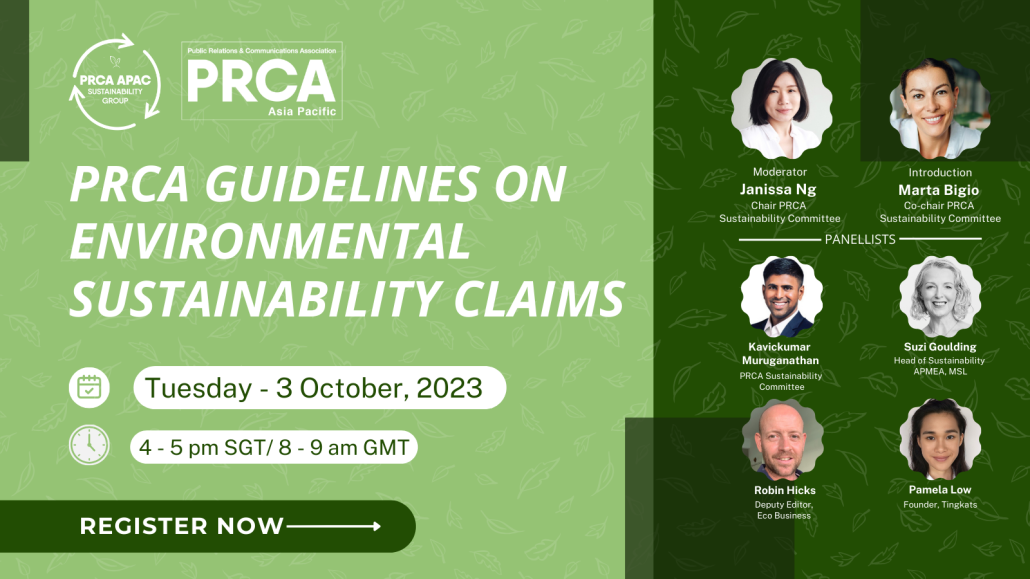 ---
Location: Online
Duration: 1 hr
Type: Webinar
Moderator: Janissa Ng – Chair PRCA Sustainability Committee
Introduction: Marta Bigio – Co-Chair PRCA Sustainability Committee
Trainers/Speakers:
Kavickumar Muruganathan – PRCA Sustainability Committee
Suzi Goulding – Head of Sustainability APMEA, MSL
Pamela Low – Founder, Tingkats
Robin Hicks – Deputy Editor, Eco Business
Target Audience:
In-house and agency Communication professionals
Anyone involved in the process of communicating sustainability claims
Format: This training will be carried out online in a webinar setting. Attendees will not be able to have their camera, and microphones on during the session.
---
Summary and Workshop Overview:
With sustainability at the forefront of global conversations, brands and corporations face unprecedented scrutiny over their sustainability credentials from a range of stakeholders. In this landscape, communications professionals play a pivotal role in helping organisations navigate the complex web of expectations and pressures.
The PRCA APAC sustainability group is introducing the PRCA Guidelines on Environment Sustainability Claims. A set of principles aimed at equipping sustainability communication professionals to adequately communicate sustainability claims. Developed in collaboration with industry and sustainability experts, these guidelines offer guidance and inspire authenticity, accountability, and trust in communication efforts promoting sustainability initiatives.
The PRCA APAC sustainability group will be joined by a panel of experts on October 3 at 4 PM (SGT) to discuss the introduction of these guidelines and the current challenges and opportunities of communicating sustainability.
Key Learning Outcomes:
Understand the pressing need to communicate sustainability claims adequately.
Be aware of the current challenges and opportunities of communicating sustainable initiatives.
Be equipped to provide better counsel to in-house stakeholders or clients.
Understand the nuances and specificities of communicating sustainability and how they differ from other communication fields.
Learn how to build trust with stakeholders and support organisations to effectively communicate their sustainability efforts without greenwashing.
Check out successful case studies of brands that manage to do it right.
---