Date/Time
Date(s) - 18/01/2023
9:30 am - 12:00 pm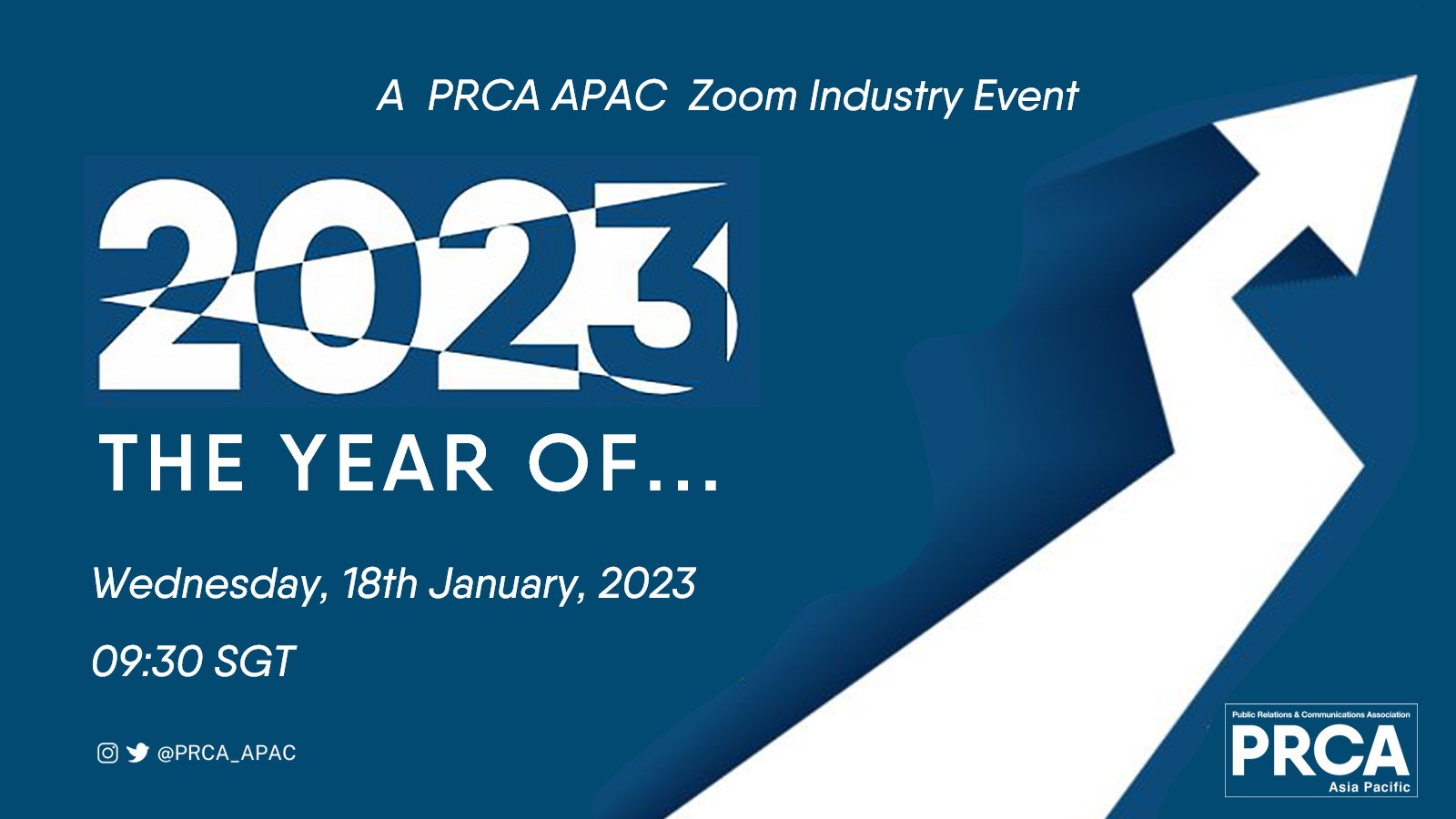 Date: 18th January, 2023
Time: 09:30 – 12:00
Location: Online
Register here.
---
Join PRCA APAC for a morning of insights as we get stuck into the major talking points for 2023.
This special event will explore the emerging trends impacting marketing, public relations and communications practice in Asia Pacific in 2023, and give attendees a glimpse into future developments within our industry.
Moderated by Lars Voedisch, Principal Consultant, Managing Director, PRecious Communications., you'll hear from industry professionals from several sectors discuss key industry trends in Asia Pacific.
This is an excellent opportunity to get ahead of the trends shaping modern PR and Comms practice.
More speakers announced soon.
---
Extreme Fandom
For 150 years marketing has been crafting and pumping messages out to target audiences, but now we are entering a new era – a fundamental shift to co-creation. So whilst the traditional approaches are not going away, there is now another role for every brand and organisation: to empower fans, consumers, and creators in the development of content that adds to their and your shared story. In this trend we explore our highly passionate fans will readily co-create, engage and share content to drive brand engagement and love.
Richard Brett, CEO, Ogilvy Health & Ogilvy PR
---
Changing power dynamics in the war for talent
Great Resignations, talent shortages, hybrid and remote debates, Quiet Quitting… what's next? These trends are ultimately variations on a theme on how, why and whether we should work. External factors like the economy, inflation, and interest rates will impact the power dynamics and leverage between employees and employers. How will the power dynamics shift, and what remains of the fundamental role of work in our lives, particularly for the PR industry?
Amanda Lee, Director, Asia, Prospect
---
Can Anything Save South Korean News?
The media environment in South Korea is characterized by strong broadcasters, a newspaper sector struggling to adapt to the digital age and powerful local online portals and messaging apps. Key news organizations recently introduced digital subscriptions as a solution to their financial woes but is it too late?
Ken Hong, Executive Vice President, Weber Shandwick APAC
---
The Rise of Superapp Advertising in Southeast Asia, and Why
Southeast Asian marketers are expecting superapp advertising to be the next big thing in digital, and it should come as no surprise. After all, we use superapps throughout the day – from booking a ride to work, ordering lunch in, and getting our groceries delivered. What's more, they're increasingly important in helping consumers connect and discover to brands and services, creating opportunities for marketers to engage with audiences across the region. We'll bust some common myths about superapp advertising while sharing more on how brands can leverage this emerging media channel to build brand and drive sales.
Jennie Johnson, Head of Marketing, GrabAds.
---
ChatGPT vs Communicators
As ChatGPT's popularity grows, it's clear that there are many apparent possibilities for agencies, brands and journalists, alike. Rather than fear the industry's disruption, we should lean into opportunities that the solution provides. In this session, we explore how ChatGPT can be harnessed to work harder and smarter for communicators.
Lina Marican, Regional Managing Director, Mutant Communications
---
Register here.