Clean Creatives Announces Campaign in Asia Pacific to end PR industry support for Fossil Fuel Brands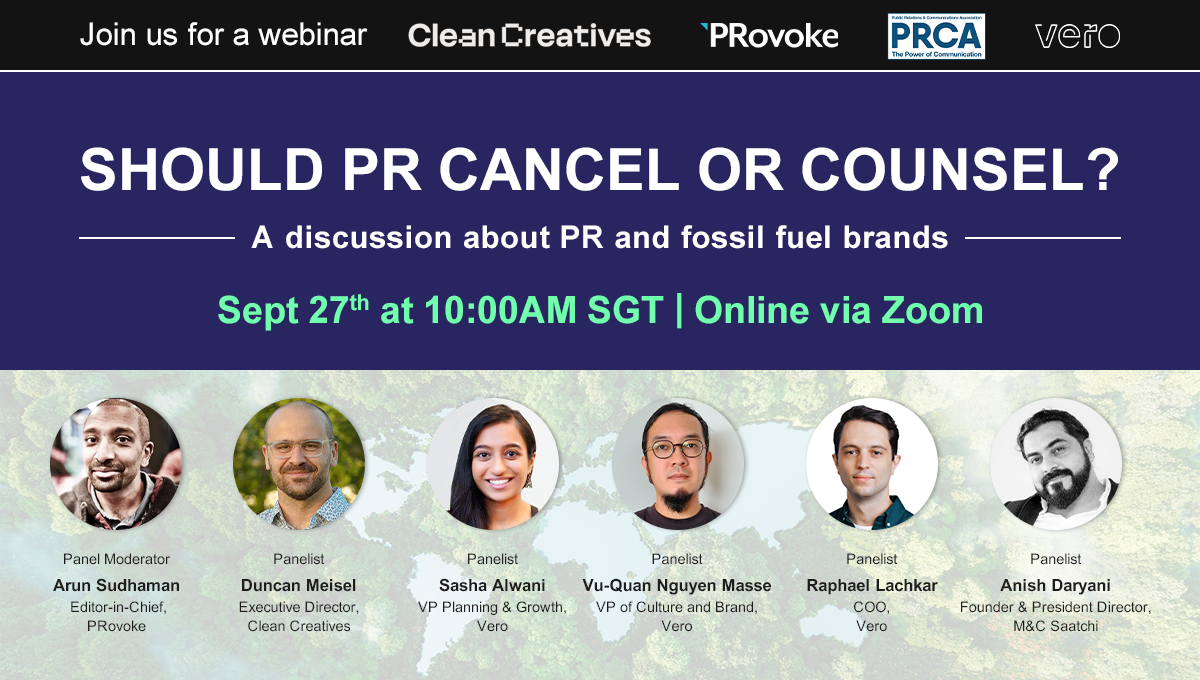 PRCA webinar "Should PR Cancel or Counsel?" scheduled for 10am, SGT, September 27 
September 14, 2022 – Clean Creatives, a collective of PR and advertising industry professionals committed to honest communications about climate change, announced today a campaign to gain more support from PR and advertising professionals in Asia Pacific. 
The campaign goal is for 500 agencies and or professionals in Asia to take the Clean Creative Pledge. The pledge is a promise taken by PR and advertising agencies and professionals to take no new contracts from companies in the fossil fuel industry. 
Clean Creatives, a non-profit organization, was launched in 2019 by Duncan Meisel.   
Vero is an award-winning PR and digital consultancy with more than 200 PR, digital, social media, and influencer marketing campaign consultants working in Indonesia, Myanmar, Philippines, Thailand, and Vietnam.  Vero is the first consultancy in Southeast Asia to take the Clean Creative Pledge and forswear working with fossil fuel brands. 
To encourage more agencies to take the pledge, Clean Creatives is organizing outreach through PRCA, the PR industry's largest trade organization.   
At 10am SGT, September 27, PRCA is hosting a panel discussion entitled, "Should PR cancel or counsel?" to address the intersection of PR campaigns and fossil fuel brands. 
The panel discussion is designed to initiate a conversation about serving fossil fuel brands and, ultimately, share ideas about how the PR industry can lead the change to inspire cleaner energy industries.  Access to the panel discussion is free of charge – and may be accessed online.  
This includes efforts to raise awareness among agency professionals, academics, students, and client decision makers that are committed to meeting sustainability goals.  Meisel aims to reach at least 1,000 PR industry professionals in Asia Pacific by the end of 2022 through meetings, a media campaign, direct marketing and speaking to classrooms focused on the communications industry in Southeast Asia. 
"Many brands are setting ambitious goals to reduce their carbon footprint, yet many of their PR consultants continue to work with fossil fuels brands – our goal is to make business decision makers aware of this conflict and to get more agencies in Asia, and around the world to take the pledge," said Meisel.  "In an ideal scenario, brands focused on sustainability goals would step in and demand that agencies end relationships with fossil fuel companies." 
After a thorough analysis of its client roster, Vero signed the Clean Creative Pledge in January, 2022 – and views this as the first step in the consultancy's efforts to improve sustainability.   
"There is much more we can do at Vero to improve the impact our consultancy makes upon the environment, and we will review policies related to our offices to see where we can reduce our carbon footprint and make a positive contribution to sustainability," said Raphael Lachkar, Chief Operations Officer, Vero.  "However, signing the Clean Creative Pledge was an important first step for us in being very deliberate in saying that we will not use our skills and capabilities in helping to create campaigns for an industry that we believe is putting the future at risk."   
Joining the PRCA panel "Should PR Cancel or Counsel?" are the following industry professionals: 
Arun Sudhaman, CEO, PRovoke

 

Duncan Meisel, Executive Director, Clean Creatives

 

Sasha Alwani, VP, Growth, Vero

 

Raphael Lachkar, COO, Vero

 

Anish Daryani, Founder & President Director, M&C Saatchi

Vu Quan Masse-Nguyen, VP, Culture & Brand, Vero

 
### 
Clean Creatives is a not-for-profit industry pressure campaign created to expose the link between advertising and PR agencies and climate misinformation.  
Aiming to provide a solution for the industry, Clean Creatives gives agencies and employees a resource to hold their companies and business partners accountable to create a more sustainable future.  
700+ creatives and 350+ agencies worldwide have signed the Clean Creatives pledge to decline future contracts with the fossil fuel industry or agencies that retain fossil fuel clients. 
Clean Creatives Website: cleancreatives.org 
Clean Creatives Twitter: @CleanCreatives 
Clean Creatives Instagram: @clean_creatives 
Clean Creatives Director Duncan Meisel Twitter: @duncanwrites 
 ### 
The Public Relations and Communications Association (PRCA) is the world's largest professional PR body. 
We represent more than 35,000 PR professionals in 82 countries worldwide. With offices in London, Hong Kong, Dubai, Singapore, and Buenos Aires, we are a global advocate for excellence in public relations. 
Our mission is to create a more professional, ethical, and prosperous PR industry. We champion – and enforce – professional standards around the world through our Professional Charter and Code of Conduct. The Code compels members to adhere to the highest standards of ethical practice. 
We deliver exceptional training, authoritative industry data and global networking, and development opportunities. 
We also manage the International Communications Consultancy Organisation (ICCO) – the umbrella body for 41 PR associations and 3,000 agencies across the world, and LG Comms – the UK's national body for local government communicators. Additionally, we support the delivery of the Motor Industry Communicators Association (MICA). 
 ### 
Vero is an award-winning communications consultancy advising some of the world's leading brands, corporations, and non-profit organizations across Southeast Asia.  
Vero designs integrated marketing and communications strategies that resonate in the region's digital ecosystems and fast-growing economies.   
With offices in Indonesia, Myanmar, the Philippines, Thailand, and Vietnam, Vero is a team of over 200 PR, social, digital, influence, and creative professionals.  
Winner of PRovoke's 2021 Southeast Asia Consultancy of the Year Award and Marketing Interactive's PR Awards 2022 Best Pharmaceutical and Health campaign for 'Love is Hard, HIV prevention is easy,' Vero has a distinctive approach to earned media, putting digital technology at the core of its business and championing stories of progress.   
Vero regularly produces research papers examining relationships between brands and audiences, digital trends, and emerging cultural impact. Vero produces playbooks for brands on topics such as but not limited to management of disinformation threats, and the media ecosystem of esports.  
For media enquiries please contact:   
Contact: Vu-Quan Nguyen-Masse
Email: vuquan@vero-asean.com 
Number: +84 77 631 8466
https://apac.prca.global/wp-content/uploads/2021/10/PRCA-NEWS-LI-TW-1.jpg
230
465
Rebecca William
https://apac.prca.global/wp-content/uploads/2021/09/PRCA-APAC-Main-1.jpg
Rebecca William
2022-09-14 10:00:31
2022-09-14 12:03:29
Clean Creatives Announces Campaign in Asia Pacific to end PR industry support for Fossil Fuel Brands