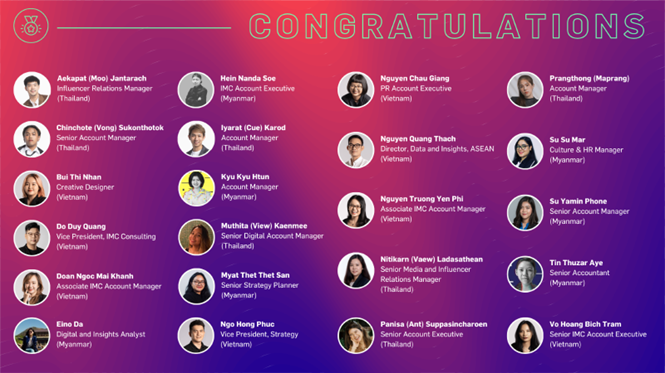 SOUTHEAST ASIA, November 3rd – In a year in which Vero achieved 50% year-on-year growth for H1 and signed key clients across a variety of industries such as fintech and crypto, luxury and lifestyle, food and beverage, healthcare, finance, entertainment and non-profit, the agency conducted a group-wide 360 review process, leading to 10% of its headcount receiving a promotion.
"At Vero we aim to accelerate the careers of our team members," said Brian Griffin, CEO, Vero.  "It's rewarding to see our people grow into leaders.  We are very, very proud of Vero team members receiving promotions, and I hope they all take the time to appreciate and enjoy this recognition and their success."
The complete list of promoted team members is in effect as of November 2022, and includes the following:
Aekapat (Moo) Jantarach, Influencer Relations Manager, Thailand
Bui Thi Nhan, Creative Designer, Vietnam
Chinchote (Vong) Sukonthotok, Senior Account Manager, Thailand
Do Duy Quanh, Vice President, IMC Consulting, Vietnam
Doan Ngoc Mai Khanh, Associate IMC Account Manager, Vietnam
Eino Da, Data and Insights Analyst, Myanmar
Hein Nanda Soe, IMC Account Executive, Myanmar
Iyarat (Cue) Karod, Account Manager, Thailand
Kyu Kyu Htun, IMC Account Manager, Myanmar
Muthita (View) Kaenmee, Senior Digital Account Manager, Thailand
Myat Thet Thet San, Senior Strategy Planner, Myanmar
Ngo Hong Phuc, Vice President, Strategy, Vietnam
Nguyen Chau Giang, PR Account Executive, Vietnam
Nguyen Quang Thach, Director, Data and Insights, ASEAN
Nguyen Truong Yen Phi, Associate IMC Account Manager, Vietnam
Nitikarn (Vaew) Ladasathean, Senior Media and Influencer Relations Manager, Thailand
Panisa (Ant) Suppasincharoen, Senior Account Executive, Thailand
Prangthong (Maprang), Account Manager, Thailand
Su Su Mar, Culture & HR Manager, Myanmar
Su Yamin Phone, Senior Account Manager, Myanmar
Tin Thuzar Aye, Senior Accountant, Myanmar
Vo Hoang Bich Tram, Senior IMC Account Manager, Vietnam
"These well-deserved promotions and increases are the result of hard work, dedication, teamwork, talent, and empathy, as well as the agency's good fortune to have clients who are willing to invest and who believe in our ability to deliver on their mission," says Supreeyaporn Sihawong, People and Culture Manager, Vero.
###
Vero is an award-winning communications consultancy advising some of the world's leading brands, corporations, and non-profit organizations across Southeast Asia.
Vero designs integrated marketing and communications strategies that resonate in the region's digital ecosystems and fast-growing economies.
With offices in Indonesia, Myanmar, the Philippines, Thailand, and Vietnam, Vero is a team of over 200 PR, social, digital, influence, and creative professionals.
Winner of PRovoke's 2021 Southeast Asia Consultancy of the Year Award and Marketing Interactive's PR Awards 2022 Best Pharmaceutical and Health campaign for 'Love is Hard, HIV prevention is easy,' Vero has a distinctive approach to earned media, putting digital technology at the core of its business and championing stories of progress.
Vero regularly produces research papers examining relationships between brands and audiences, digital trends, and emerging cultural impact. Vero produces playbooks for brands on topics such as but not limited to management of disinformation threats, and the media ecosystem of esports.
For media enquiries please contact:
Contact: Vu-Quan Nguyen-Masse
Email: vuquan@vero-asean.com
Number: +84 77 631 8466