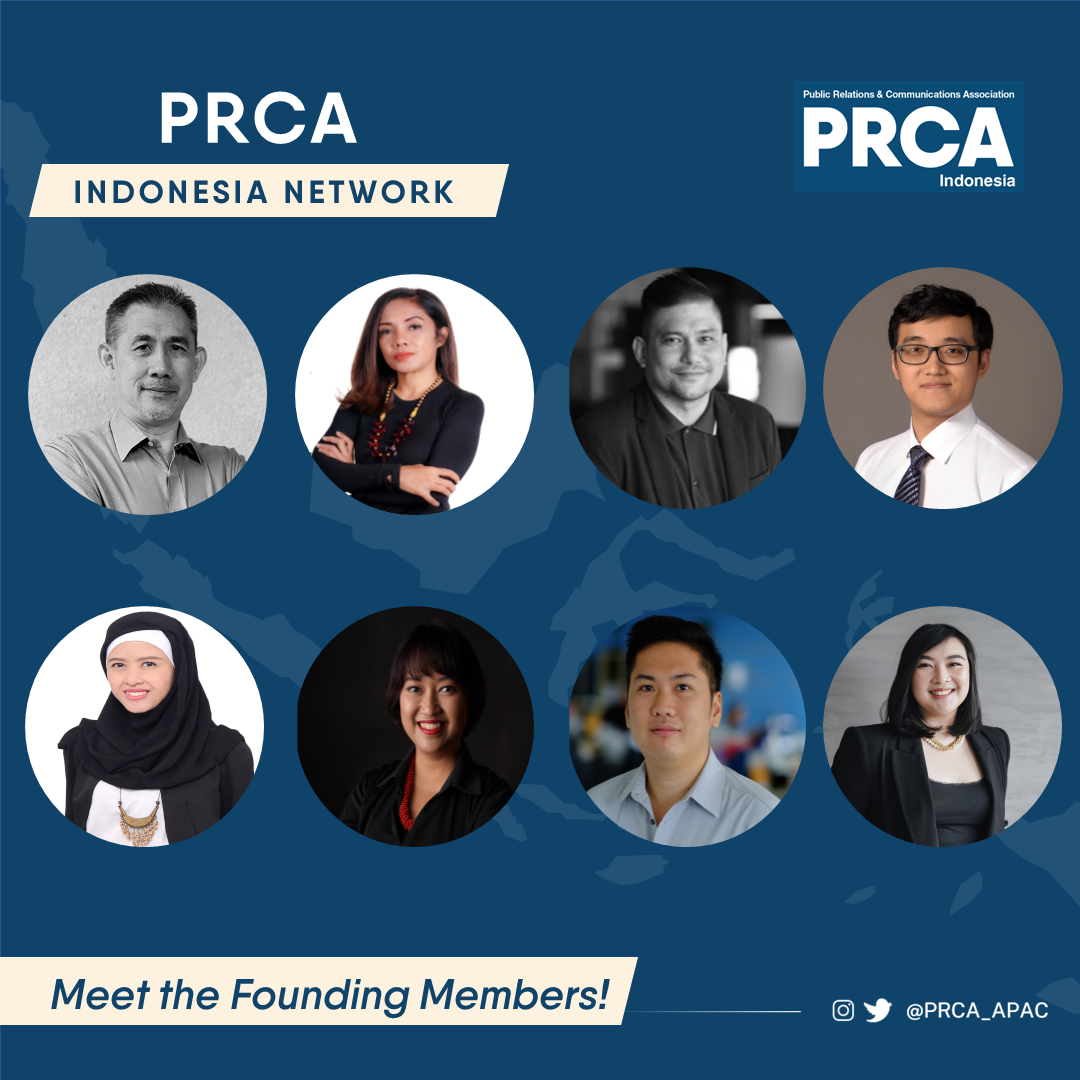 ---
ASIA PACIFIC, 15th February 2023 – The Public Relations and Communications Association Asia Pacific (PRCA APAC) has announced the launch of its PRCA Indonesia Network.
The PRCA Indonesia Network is focused on supporting and raising professional standards, as well as being a point of reference for those wanting to know more about the communication industry in Indonesia.
Founding Members include:
Ong Hock Chuan, Managing Partner, Maverick Indonesia (chair)
Ridzki Noviansyah, Senior Manager, PRecious Communications
Niko Radityo Suwito, Senior Account Director, The Hoffman Agency
Karina Prameswari, Director of Operations, Maverick Indonesia
Diah Andrini Dewi, Executive Account Director, Vero Indonesia
Tanya Tresnasari, Country Manager, Mutant Communications
Thomas Franky, Managing Director, Artemis Indonesia
Harry Deje, Managing Director, Hill+Knowlton Strategies Indonesia and Carl Byoir Indonesia
Ignes Dea, Managing Director, IDEAS Communications
Driven by volunteers and focused on uniting practitioners across the country and region, the Network will highlight best practices and champion PR's importance in business and society.
Commenting on the launch of the Network, Tara Munis, Head of PRCA Asia Pacific said:
"With its resources, PRCA APAC can implement and support initiatives that need to be addressed in the Indonesian PR and Communications industry. Through Ong's leadership and expertise, we can work on strengthening Indonesia's position as industry leaders in APAC."
Ong Hock Chuan, Managing Partner, Maverick Indonesia said:
"The PR professionals and I in Indonesia are delighted with this opportunity to contribute to our profession through trainings and other events aimed at raising the professional standards of the industry. This is sorely needed, especially when we have so many entry-level professionals each year and where the industry is experiencing so much change."
Find out more about the Network here.
Further information available on request:
Tara Munis
Head of PRCA Asia Pacific
+852 9727 4865
ABOUT PRCA
The Public Relations and Communications Association (PRCA) is the world's largest professional PR body.
Representing 35,000 PR professionals in 82 countries worldwide, we are a global advocate for excellence in public relations. Our teams across Europe, the Middle-East and Asia-Pacific work with professionals around the world to co-ordinate our operations across six continents.
Our mission is to create a more professional, ethical, and prosperous PR industry. We champion – and enforce – professional standards around the world through our Professional Charter and Code of Conduct. The Code compels members to adhere to the highest standards of ethical practice.
We deliver exceptional training, authoritative industry data, and global networking, and development opportunities.
We also manage the International Communications Consultancy Organisation (ICCO) – the umbrella body for 41 PR associations and 3,000 agencies across the world. Additionally, we support the delivery of the Motor Industry Communicators Association (MICA).