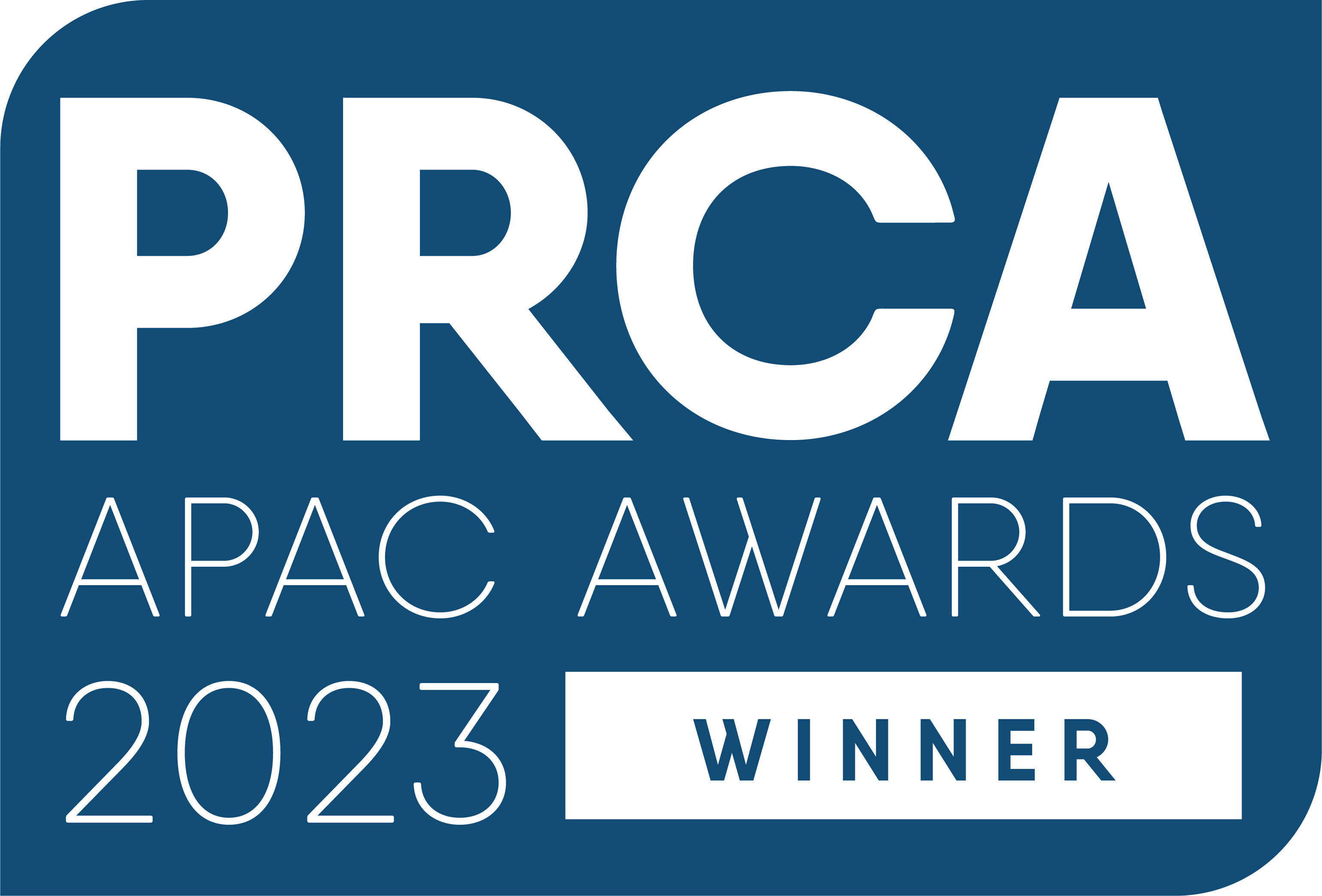 SINGAPORE, 31st March, 2023 – In recognition of the most outstanding PR campaigns and talent contribution to the industry, the fourth edition of the coveted PRCA APAC Awards feted the best of teams, campaigns, and individuals with 30 categories last night. The ceremony was held at voco Orchard, Singapore.
The evening witnessed leading practitioners and campaigners from across the Asia Pacific region represent innovation and quality work.
The Awards were judged by a panel of renowned figures from the world of PR, communications and journalism, and members of the Public Relations and Communications Association (PRCA), the world's largest professional PR body.
In addition to the 54 winner's awards, the judges recognised a total of 4 highly commended entries for their excellence of work in different categories.
The evening saw Sandpiper take home the Large Consultancy Award, COMCO Southeast Asia win the Medium Consultancy Award, while Eleven International received the Small Consultancy Award. The award of the PR Leader Award was given to Sai Roshini Daswani, Sinclair. The title of  Young Communicator Award was won by Zoe Cheung, Sinclair.
Tara Munis MPRCA, Head of PRCA Asia Pacific, said: "The past twelve months have seen remarkable work produced by our industry in Asia Pacific. The PRCA APAC Awards demonstrate the positive impact that the communication sector can bring to individuals, organisations and governments on a daily basis. Congratulations to the finalists, highly commended and winners. Winning a PRCA award is a testimony of your dedication, hard work and innovation."
We would like to extend a special thank you to our host of the evening Anita Kapoor, to our sponsors and to our illustrious panel of judges who had their work cut out the best of talent from a crème flow of achievers and select this year's finalists.
About PRCA
The Public Relations and Communications Association (PRCA) is the world's largest professional PR body.
We represent more than 35,000 PR professionals in 82 countries worldwide. With offices in London, Hong Kong, Dubai, Singapore, and Buenos Aires, we are a global advocate for excellence in public relations.
Our mission is to create a more professional, ethical, and prosperous PR industry. We champion – and enforce – professional standards around the world through our Professional Charter and Code of Conduct. The Code compels members to adhere to the highest standards of ethical practice.
We deliver exceptional training, authoritative industry data, and global networking, and development opportunities.
We also manage the International Communications Consultancy Organisation (ICCO) – the umbrella body for 41 PR associations and 3,000 agencies across the world, and LG Comms – the UK's national body for local government communicators. Additionally, we support the delivery of the Motor Industry Communicators Association (MICA).