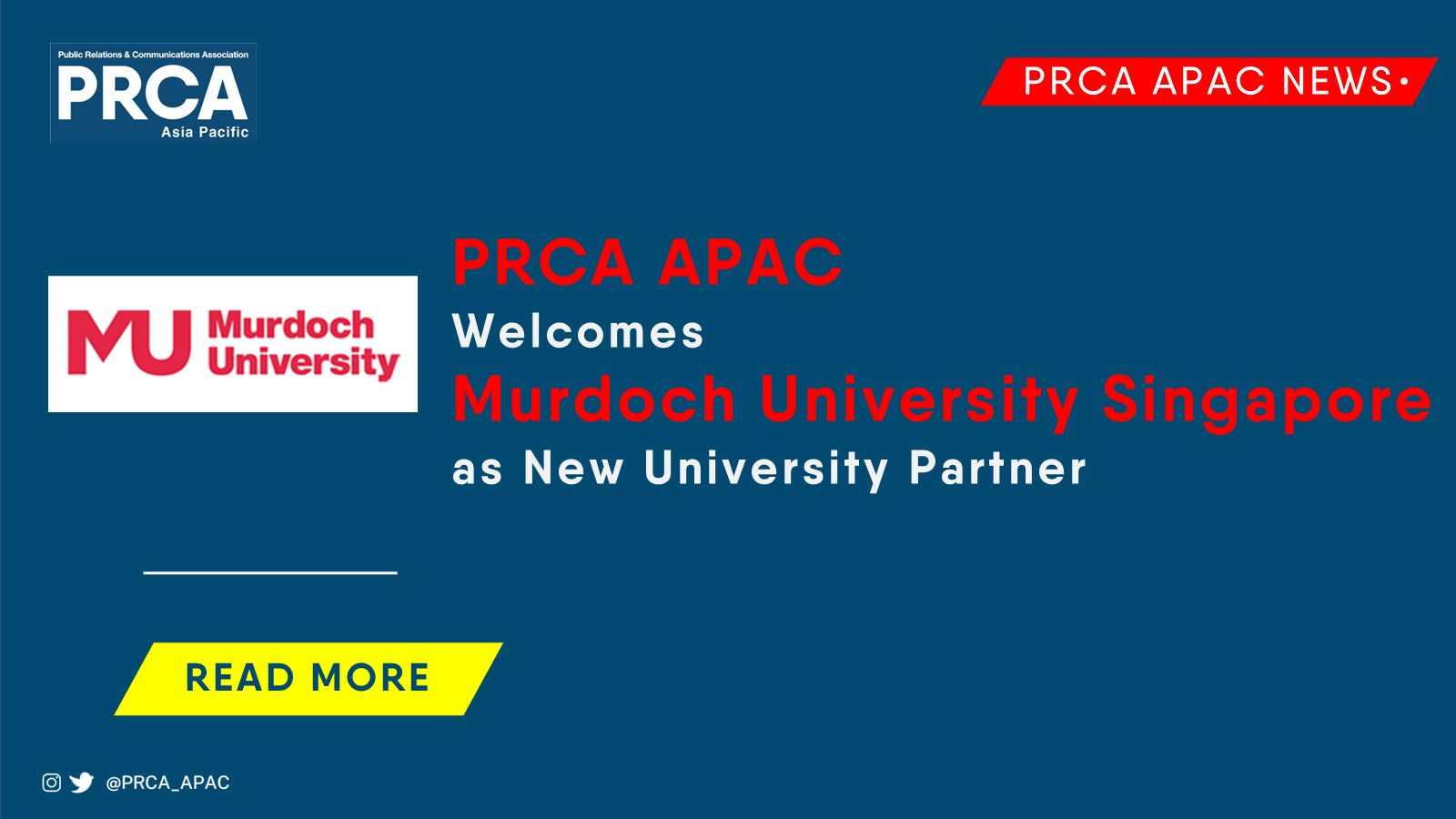 ASIA PACIFIC – 27th February 2023 – The Public Relations and Communications Association Asia Pacific (PRCA APAC) has today announced Murdoch University, Singapore as new University partner.
Murdoch University Singapore is a key node alongside Murdoch University Dubai, where both are core branches of Murdoch University in Perth, Australia – one of the Top 100 Young Universities in the World and also a PRCA University Partner. Both campuses focus on offering flexible learning options to allow students to design their course of study in accordance with their own personal requirements.
Head of PRCA APAC Tara Munis MPRCA, said:
"It's a pleasure to welcome Murdoch University, Singapore as partners of PRCA APAC. As an institution that has remarkable history in education and developing talent, we look forward to supporting students and staff throughout the partnership and keep the PRCA's mission of strengthening the PR industry worldwide."
Dean and Pro Vice-Chancellor TNE at Murdoch University Singapore, Professor Peter Waring said:
"At Murdoch University Singapore we strive to constantly provide our students with a myriad of real-world experiences and opportunities to apply what knowledge they are acquiring in the classrooms. Such industry partnerships are an invaluable way to bridge the gap between textbook learning and industry know-how. We believe that getting our students involved in a variety of communication projects, gaining insights from industry events, mentorships, and regular interactions with public relations and strategic communication professionals will give our students that edge. We are delighted to partner with PRCA, a highly regarded and global PR association, and look forward to working together to enrich the learning experiences of our Communications students."
ABOUT PRCA
The Public Relations and Communications Association (PRCA) is the world's largest professional PR body.
Representing 35,000 PR professionals in 82 countries worldwide, we are a global advocate for excellence in public relations. Our teams across Europe, the Middle-East and Asia-Pacific work with professionals around the world to co-ordinate our operations across six continents.
Our mission is to create a more professional, ethical, and prosperous PR industry. We champion – and enforce – professional standards around the world through our Professional Charter and Code of Conduct. The Code compels members to adhere to the highest standards of ethical practice.
We deliver exceptional training, authoritative industry data, and global networking, and development opportunities.
We also manage the International Communications Consultancy Organisation (ICCO) – the umbrella body for 41 PR associations and 3,000 agencies across the world. Additionally, we support the delivery of the Motor Industry Communicators Association (MICA).